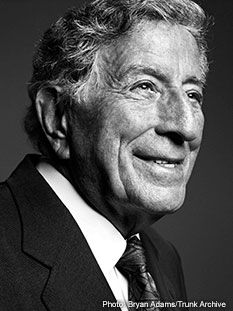 Tony Bennett's life and philosophy is the embodiment of the Great American Story. Having celebrated his 90th birthday on August 3rd 2016, his career as the pre-eminent singer of the 20th and 21st centuries is unprecedented. He continues to be embraced and loved by audiences of all generations.
Through his dedication to excellence and his insistence on quality, he has become the keeper of the flame by extolling the virtues and values represented by the Great American Songbook. Tony Bennett has been on the front lines of every major issue impacting the cornerstones of this country's modern history. He has performed for eleven U.S. Presidents, is a World War II veteran who fought in the Battle of the Bulge and participated in the liberation of a concentration camp, and marched side by side with Dr. Martin Luther King in Selma to support civil rights. Throughout his life, Tony Bennett has been a dedicated pacifist and proactive humanitarian selflessly supporting many causes whose goals benefit the lives of millions. His love for his country has earned him the distinction of national treasure and the United Nations has named him a Citizen of the World as one of their foremost ambassadors.
Through his music, Tony Bennett has connected in unprecedented fashion with all generations of audiences. His commitment to humanitarian ideals has bridged our differences by highlighting what we have in common as citizens of the planet. He has fought for the hard issues when others have turned a blind eye and has remained true to the authenticity and creativity of his musical vision. Tony has achieved the Great American Dream but has never forgotten his own roots and is constantly working toward ensuring that others can achieve their dreams as well. His life story is compelling in the lessons and values that it teaches: dedication, commitment, courage, and compassion.
---
No one in popular American music has recorded for so long and at such a high level of excellence than Tony Bennett. In the last ten years alone he has sold ten million records. The essence of his longevity and high artistic achievement was imbued in him in his loving, childhood home in the Astoria section of Queens where he was born on August 3, 1926. His father died when Tony was 10 and his mother, Anna, raised Tony and his older brother and sister, John and Mary, in a home surrounded by loving relatives who were Tony's first fans, filling him with encouragement and optimism. He attended the High School of Industrial Arts in Manhattan, where he continued nurturing his two passions: singing and painting. From the radio, he developed a love of music hearing Bing Crosby, Louis Armstrong, and James Durante.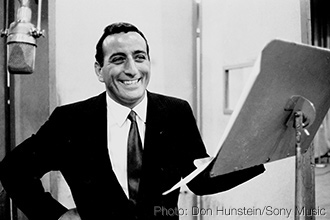 As a teenager, Tony sang while waiting on tables and then enlisted in the Army during World War II and while in Europe he performed with military bands. He later had vocal studies at the American Theatre Wing School. The first time Bennett sang in a nightclub was in 1946 when he sat in with trombonist Tyree Glenn at the Shangri-La in Astoria. Bennett's big break came in 1949 when comedian Bob Hope noticed him working with Pearl Bailey in Greenwich Village in New York City. As Bennett recalls, "Bob Hope came down to check out my act. He liked my singing so much that after the show he came back to see me in my dressing room and said, 'Come on kid, you're going to come to the Paramount and sing with me.' But first he told me he didn't care for my stage name (Joe Bari) and asked me what my real name was. I told him, 'My name is Anthony Dominick Benedetto,' and he said, 'We'll call you Tony Bennett.' And that's how it happened. A new Americanized name—the start of a wonderful career and a glorious adventure that has continued for over 60 years."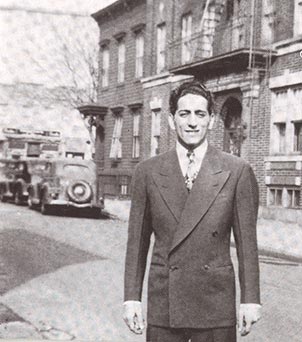 With millions of records sold world-wide and platinum and gold albums to his credit, Bennett has received nineteen Grammy Awards—including a 1995 Grammy for Record of the Year for his MTV Unplugged CD which introduced this American master to a whole new generation—and the Grammy Lifetime Award. His initial successes came via a string of Columbia singles in the early 1950s, including such chart-toppers as "Because of You," "Rags to Riches," and a remake of Hank Williams' "Cold, Cold Heart." He had 24 songs in the Top 40, including "I Wanna Be Around," "The Good Life," "Who Can I Turn To (When Nobody Needs Me)," and his signature song, "I Left My Heart In San Francisco," which garnered him two Grammy Awards.
Tony Bennett is one of a handful of artists to have new albums charting in the '50s, '60s, '70s, '80s, '90s, and now in the first two decades of the 21st century. He has introduced a multitude of songs into the Great American Songbook that have since become standards for pop music. He has toured the world to sold-out audiences with rave reviews whenever he performs. Bennett re-signed with Columbia Records in 1986 and released the critically acclaimed The Art of Excellence. Since his 1991 show-stopping performance at the Grammy Awards of "When Do The Bells Ring For Me," from his Astoria album, he has received a string of Grammy Awards for releases including Stepping Out, Perfectly Frank, and MTV Unplugged.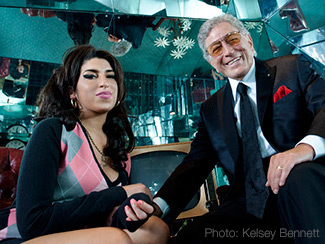 In the new millennium, Bennett's artistry and popularity was higher than ever. In 2006, the year of his 80th birthday, his Duets: An American Classic was released. The album—which included performances with Paul McCartney, Elton John, Barbra Streisand, Bono, and others—won three Grammy Awards and went on to be one of the best-selling CDs of the year and Tony's career. Bennett's first Duets album also inspired the Rob Marshall-directed television special Tony Bennett: An American Classic, which won seven Emmys making it the most honored program at the 2007 Emmy Awards. In celebration of his 85th birthday in 2011 the release of Bennett's highly anticipated, Duets II, featured Tony performing with a new roster of celebrated artists including, the late Amy Winehouse (her last recording was their duet of "Body and Soul"), Michael Bublé, Aretha Franklin, Josh Groban, Lady Gaga, John Mayer, and many others. Duets II debuted at #1 on the Billboard Album charts, making Tony the only artist at the age of 85 to achieve this in the history of recorded music. Bennett won two Grammys for Duets II in the 2012 Grammy ceremony and that year marked the 50th Anniversary of the recording and release of his signature song, "I Left My Heart in San Francisco." A documentary entitled, The Zen of Bennett, which was created and conceived by Danny Bennett, Tony's son and manager, was premiered at the Tribeca Film Festival 2012. At the end of 2012, Bennett also authored his fourth book, the New York Times bestseller, Life is a Gift, which highlights his personal philosophies learned throughout his life and career. Tony's collaborative jazz album with Lady Gaga, released in 2014, Tony Bennett & Lady Gaga: Cheek To Cheek, debuted at #1 on the Billboard Top 200 album charts, making Bennett, at the age of 88, the oldest artist to have a #1 album—breaking his own previously established historical record. "Cheek To Cheek" won a Grammy in the Best Traditional Pop Vocal category. Bennett's 2015 release, The Silver Lining: The Songs of Jerome Kern won a Grammy for Best Traditional Pop Vocal album.
On August 3rd 2016, Tony Bennett celebrated his 90th birthday which was marked by the lighting of the Empire State Building in honor of his musical legacy along with a star-studded celebration at the famed Rainbow Room. Later that year NBC aired a two-hour prime time special, Tony Bennett Celebrates 90: The Best is Yet to Come, which featured performances by Lady Gaga, Stevie Wonder, Billy Joel, Bob Dylan, Michael Bublé, and many more. Columbia Records released a companion CD to the television special, and Tony's fifth book was published, Just Getting Started.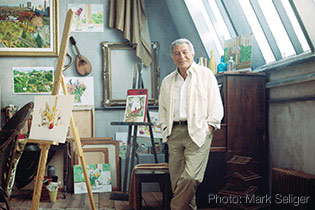 Tony Bennett became a Kennedy Center Honoree in 2005, was named an NEA Jazz Master in January of 2006, a Citizen of the World award from the United Nations, and a Billboard Magazine Century Award in honor of his outstanding contributions to music. In November 2017, the Library of Congress will present Tony with The Gershwin Prize, marking the first time the honor has been bestowed upon an "interpretive singer" as, to that date, it had only been given to composers.
Tony Bennett is a dedicated painter whose interest in art began as a child. He continues to paint every day, even as he tours internationally. He has exhibited his work in galleries around the world. The United Nations has commissioned him for two paintings, including one for their 50th anniversary. His original painting, "Homage to Hockney," is on permanent display at the Butler Institute of American Art, and the landmark National Arts Club in New York is home to Tony's painting "Boy on Sailboat, Sydney Bay." Three of his paintings are part of the Smithsonian Museums permanent collections, including his portrait of his friend Duke Ellington that became part of the National Portrait Gallery's collection in 2009.
Throughout his career, Tony Bennett has always put his heart and time into humanitarian concerns. He has raised millions of dollars for the Juvenile Diabetes Foundation, which established a research fund in his name. His original paintings each year grace the cover of the American Cancer Society's annual holiday greeting card, proceeds from which are earmarked for cancer research. He is active in environmental concerns and social justice. He marched with Dr. King in the historical Selma-to-Montgomery Civil Rights movement, and the Martin Luther King Center in Atlanta bestowed upon him their Salute to Greatness Award for his efforts in fighting racial discrimination.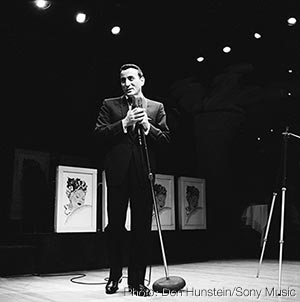 In 1999, Tony Bennett and his wife, Susan Benedetto, a former public-school teacher, founded Exploring the Arts (ETA) to strengthen the role of the arts in public high school education. ETA connects private funders, individual artists, and cultural institutions to Partner Schools to achieve greater equality of resources and opportunity for youth of all means and backgrounds. ETA programs are designed to help school principals and teachers sustain the arts in the face of budget cuts and better leverage the arts to strengthen student learning and engagement. ETA's first endeavor was the establishment of Frank Sinatra School of the Arts (FSSA), a public high school founded in 2001 by Tony and Susan in partnership with the NYC Department of Education. FSSA is housed in a newly constructed building in Tony's hometown of Astoria, Queens. Its state-of-the-art facilities include visual-art studios and a gallery, black-box theatres and a stagecraft workshop, dance studios, choral and orchestral classrooms, an 800-seat concert hall, a multi-media technology lab, and a rooftop performance garden. All students major in Dance, Theatre, Film, Fine Art, Vocal or Instrumental Music. FSSA also offers a rigorous academic curriculum and holds one of the highest graduation and college enrollment rates for NYC public high schools. ETA continued beyond its commitment to FSSA to expand their support and, to date, ETA currently partners with 37 public high schools—in all five boroughs of New York City and Los Angeles with expansion plans to serve more schools underway. (To learn more about Exploring the Arts visit exploringthearts.org.)
Today Tony Bennett's artistry and accomplishments are applauded here at home and all over the world from people from 12- to 90-years old. On the occasion of Tony Bennett's 85th birthday, former President Bill Clinton observed, "Now in his seventh decade of singing, Tony Bennett has somehow kept his unique voice, with its beauty and range, its strength and style, and still in perfect pitch. But as talented as he is, Tony's most impressive quality is his giving spirit!"
For more about Tony Bennett and to get a glimpse into the mind of his creative process take a look at the documentary film Zen of Bennett at zenofbennett.com.